Ad
30% Off Summer Sale at AeroGarden! Valid 6/29-7/5.
How to grow basil in the Aerogarden
Growing basil (Ocimum basilicum)  in the Aerogarden indoors is one of the first things you should do when you get one of these hydroponic units…
The plant germinates very quickly….
Grows extremely fast…
And gives back so much…especially if you like basil
From the herb kits that come bundled with most models, the genovese basil is one of the plants that really is worth planting….
Ad
4th of July sale is here! Get your Smart Garden with up to 20% off while the offer lasts.
After you have assembled it then open the gourmet herb seed kit.
Select the seed pod or pods you want to grow.
Fill the reservoir with water up to the right level, add the required amount of plant food.
Place the pod into the hole.
Place the clear dome over the pod.
Plug it in and switch it on
Select herbs on the front panel selector.
Press and hold the reset.
And wait a few days for the first signs of life.
Smile when you see it….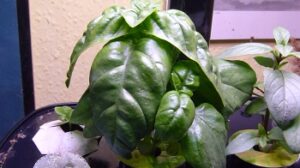 After about a week the leaves maybe pushing against the dome…
It is now time to remove the dome…
And allow it to grow on further….
In a week the first main leaves will grow to their maximum size and the next leaves will start to appear.
You will also notice there are two little side shoots.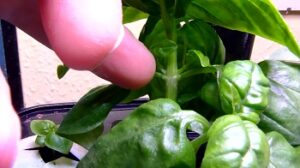 These will never grow if the main leaves are left to grow, the plant has an inhibitor function….
Now you have two sets of full grown leaves and a third set coming your plant is ready for its first pruning…
Tip:
You will get the lights flashing after two weeks to change the nutrient…
If it is for seedlings i tend to just press reset as the seed will not have used up the nutrient and can carry on for at least another two weeks before the first change…
Tip:
In the manual it says to get rid of all but one of the plants in a pod….
But hang on….
You can get two or more plants if you leave them for a bit…
Let them grow on a bit and then take a cutting and plant it up in a spare hole…
As long as you have the grow anything kit or have made your own pods then you can have more plants…
Pruning your basil plant in the aerogarden
If we are in luck we can get another plant out of the pruning….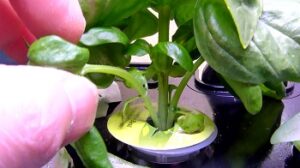 So have a small glass of water ( ideally tepid and stood overnight)
Now you have to think of the stem of the plant just like a straw….
The leaves are sucking the nutrient up….
So once we trim the stem, right at the bottom we may get a little air bubble, but if we can get the end into the water straight away then the plant will not know what happened…
With any major disturbance like this to a plant it will stop growing for a couple of days …
So don't be worried if you see no change, it will start growing again after it gets over the shock.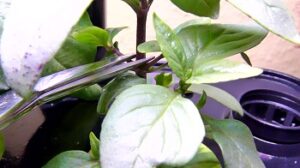 Take a pair of sharp scissors which will cut the stem in one cut …you can use a knife for this as it is young and tender…
With one snip cut all the way through the stem and place it into the awaiting glass of water….
Now the top is taking up the water from the glass…
And will continue to grow after a couple of days…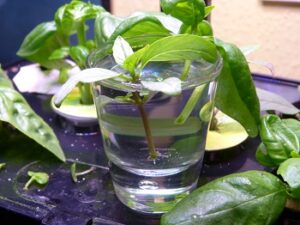 Roots will start to emerge from the bottom of the stem and you have a new plant, which can be grown on in the Aerogarden…or planted in a pot for others …or transplanted outside after the frosts have gone – but watch out for the slugs as this basil is full of oils….
What i will do is to plant it up in a rockwool cube as shown in the make your own seed pods article…
This way the cut stem is being fed and will grow on…
You may see it wilt for a bit , but it will recover…
Conditions for growing basil
It likes a lot of light.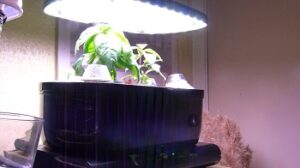 This is the reason the Aerogarden grow light is very efficient at growing plants.
It doesn't like the cold…so watch out for the leaves against the window if you put it in a windowsill…
Likes a lot of water, but in soil not saturated, in the indoors hydroponics unit this is taken care of…
So if you do pot it up …free draining soil, but water regularly – don't wait for it to wilt before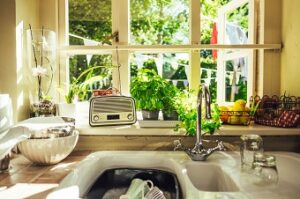 watering…
And it will grow quickly…especially if you give it the right combination of mineral salts – as in the plant food  mix for the Aerogarden.
So a bit of general purpose food every now and then when grown in soil may not go amiss…
How long does it last in the Aerogarden…
The box says you will get one season out of it…..
I laugh at that, as one plant i grew lasted over 7 years.…that is one long growing season…
And that plant was huge.
Every now and then when it thought of flowering i went round and pinched out the flowers so the leaves don't become bitter.
And after it flowers and goes to seed the basil plant stops producing leaves.
And eventually it succumbed to aphids as i took my eye off the ball…
When i really looked at it it was covered and not recoverable…
Even with a wash under a tap to knock most of them off there were just too many….
Other bugs the basil are susceptible to are whiteflies, spider mites and thrips.
So just keep an eye on it…
Unless there is a wind to keep these bugs off you may find them on there….
Most of the diseases, the grey mold, the mildew and the brown spot are prevented by the Aerogarden growing environment.
So then i could use the Aerogarden again for something else….
And this is one of the problems …things can last a long time in there
The only maintenance is to change the plant food every two week and make sure the pump is not blocked….
I tend to check every day for water level and not rely on the flashing light to tell me when it needs topping up…
This way the nutrient doesn't become too concentrated and the plants are happy…
I keep a jug of water on a shelf below the Aerogarden, to allow it to be come tepid and any chemicals evaporate off…
Basil plant lifetime
The basil plant can, as i said, last for a few years at this stage the stem is getting woody, but the leaves still are fresh.
Mine outgrew the Aerogarden, and i had one of the older models where you can remove the light top to replace the bulbs…
Nowadays with the led lights you cannot remove the top ….
So what you could do is to take a cutting and plant it up in another empty pod …
Let this grow and then remove the main plant…
Either doing a final harvest of all the leaves or transplanting it outside for the rest of the season…as long as it is not too cold…
One point is that if the plant gets large and doesn't have too much wind to help develop the stem it can collapse as it becomes top heavy…
To me this is the only thing the Aerogardens lack a source of wind to mimic the air movement….it would help prevent some of the still air pests like aphids from getting a foothold as well….
Harvesting your basil
After harvesting the leaves you can store them in the fridge for a few days…
Place them on a piece of kitchen towel to keep then dry and pop them into a storage bag.
Or what i used to do is to leave the leaves on the stem and place that in a glass of water in the kitchen window until i was ready to use the leaves….
The other way i have tried preserving them – they must be dry before you do this is to put them straight into the freezer in a bag….remove as much air as possible…
I know if basil leaves get cold they go black and look unappetizing, but i have found this method works and keeps them green and fresh…
We have now invested in a vacuum packer…so i will try this once i get enough leaves to harvest and report back
The other way to store them is to dry them ….
On the top of our boiler we keep a pot where we put chilies that are ripe to dry
And we have had success with basil leaves as well …
They do lose some of their essential oils , so are not quite as aromatic…..
But it does work…..
You could also use the oven set on the lowest temperature with the door held open a crack…
I have heard, but not tried, storing whole basil leaves in oil, in the fridge they will last over a year.
This is will be trying and will report back…
And the other way is to blitz them up in oil to make a paste…or create a pesto…
But growing basil with the Aerogarden you will be giving away loads of your crop.
As once it decides that it is going to grow and with you pruning it to give you a good yield, the plant will keep producing….
Other types
The other types of basil – thai, purple, sweet, lettuce, greek and globe basil will all do well when planted in the grow anything kit for Aerogarden.
The greek basil along with the thai with their smaller leaves and stature may do extremely well in the Aerogarden.
Uses
Used in cooking – add it at the last moment as it doesn't take a whole lot of cooking
We have used it sandwiched between sheets of pasta…with it grown in the hydroponics it is bursting with flavor and compliments many of the tomato sauced dishes…
Excellent source of vitamin k, manganese, iron, vitamin a, and vitamin c. also a good source of calcium, magnesium and omega-3 fatty acids
The essential oil can be used on cuts wounds and skin infections
Last word
So is it worth growing basil in the aerogarden definitely, as long as you like it…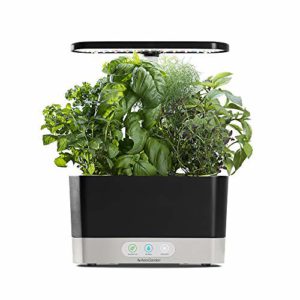 The crop you get will fill the house with the fresh aroma of basil as you chop it in the kitchen.
And it is especially easy to grow and keep close by in the Aerogarden units.
If you have never tried it then it is worth investing in one of these units….
I did and now have 5 units…
It is worth checking them out at Amazon (aff link)
Things you didn't know about basil
Basil is part of the mint family
A house surrounded by basil in India is considered a blessed house.
Can be used for digestive complaints instead of that after dinner mint -an after dinner cup of basil tea
Plant basil near tomatoes to repel whitefly
Basil is an ingredient in the liqueur chartreuse
Add several leaves to the liquid when poaching chicken, shellfish or fish.
So i hope you have enjoyed that journey into growing, pruning and harvesting basil in the aerogarden…
If you have any tip on basil growing leave them in the comments below…
If you would like more plants covered then please don't hesitate to ask…
And sign up to be notified when new content is added to the site….
Have a good growing day
Phil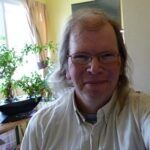 I have been growing plants hydroponically since 2009. For years before that i was reading books and looking at systems and saying ...no way...
But once i had taken the plunge with the tomatoes outside, then there was no stopping me.
I tried out most of the systems and started to refine them, getting the plants to grow more efficiently.
Now I am more interested in indoor hydroponics and the challenges it presents. Being able to control the environment, feeding the correct nutrients and giving the correct length and type of lighting....