Ad
30% Off Summer Sale at AeroGarden! Valid 6/29-7/5.
Some of us have planted mint directly in the garden only to regret it at the end of the year…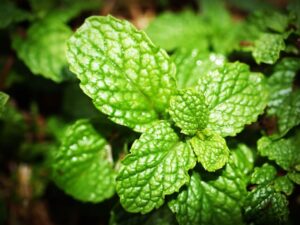 It really spreads in a good year and can start to take over an area of your garden…
Then we may transplant it into pots to constrain it, that works…
But make sure you feed it occasionally….
Then in winter it dies back due to the temperature….
So how can you have mint all year round…
Ad
4th of July sale is here! Get your Smart Garden with up to 20% off while the offer lasts.
Well you can grow it indoors…
Let's find out how shall we…
Types of mint
There are hundreds of different varieties of mint, too many to list here….
But beware of growing many different varieties close together as they can cross pollinate and take on each others characteristics…not always desirable….
There is the classic peppermint, that taste of chewing gum or toothpaste…
Or the less peppery spearmint…
Or go for the wooley apple mint…
Or the more colorful variety of apple mint the pinapple mint, with its white edged leaves…
Or the orange mint with its citrus flavor…
Or the licorice mint with its minty anise aroma….
And you could go on for ages…
The best way to see them is to go down to hte local garden center where they will have numerous varieties…
How to grow indoors
So you want to grow mint indoors…
That's no bad thing…
It can do well as long as it is treated right…
Let's look at a couple of ways you can easily grow mint indoors…even in winter…
Growing In pots
The usual way of growing indoors is on pots, we will explore another way in a moment, but first how to start growing mint indoors…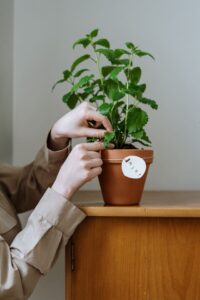 Mint is fairly hardy and can put up with a lot, so to start growing your mint indoors you can start with rooted cuttings, a stem or seeds….
If you are after a new variety, and there are hundreds to choose from then it is worth going to the local garden center and browsing the different varieties…
Pinching a leaf and smelling the aroma….
And picking one up that you like….
This is great in the spring when the centers are full of plants , but in the winter they tend to be full of bulbs for next season…
Or if you have a mint plant in the garden you want to carry on over the winter, then take a cutting and you can grow that on into an indoor plant….
Or you can start a new variety from scratch and  grab a packet of seeds….
Yep…you can grow mint from seed fairly quickly, given the right conditions…
You will need a pot that is around 8 inches in diameter, ceramic or plastic is ideal…the clay ones tend to cool the soil too much inside and dry your plants roots out…
It needs a drain hole so that the water can drain through…
So you will need something for it to stand on…
Maybe an outer pot to make it look attractive…
Or another method…..
Growing Hydroponically
Growing plants without soil has been done for thousands of years, but only come to the forefront and been commercialised in the last 20 or so years…
But now, wow …instead of you having to be creative and build systems there is a system for almost anything…
You have self watering pots ( a bit of a lie as you do still have to add water) right up to massive units that can easily feed a family greens continuously…
But you can grow mint in one of these…
Ideally on its own as it will try to take over the whole unit unless you really keep it trimmed back…
And even then it can get out of hand with the roots.
So a small three pod aerogarden would be ideal for this or similar…
This way you can start with the cutting, seed or rooted plant…
Just fit this into the grow anything pod or create one with rockwool, add the water and nutrient and allow it to grow…
The hydroponic unit now takes care of the lighting, heating, watering, there is air around it, so the plant has everything it needs to thrive…
Care of your mint
When growing mint in a pot you need to allow it to get enough light…
And over winter this may be difficult, so supplemental lighting in the form of a grow light is the way to go…
Mint is a vegetative growth plant , until it flowers, so a little feed occasionally is esential for a healthy plant…
Going away on holiday
What if you want to go away for a week or two….
Most pot plants may not hold enough water to survive this time period..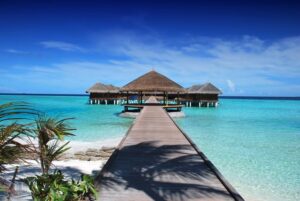 So you have two choices…
Ask a friend to look after them and collect them when you get back…
Or get someone to come in to water them…
You can always get an automatic waterer…
But make sure you test it out first, you don't want to come back to a flood…
It is the same if you use hydroponics…
You get to know how much water they use….
If you know that they are going to run out you can also use an automatic waterer or go for the unit that is designed to work with the Aerogardens , the Aerovoir….
You know if you have the curtains half closed or even closed over your holiday then the plants are going to get enough light, as this is one of the parts of the hydroponic units..
So with hydroponics all of the plants needs are taken care of…
So what do you do with all the mint that will grow…
Uses of mint
Cooking
Mint can be used in the kitchen throughout the meal...
Although having in every serving may be a bit too much for one meal…
So for a starter you can make pea and mint soup
For the main you can combine lamb with fresh mint sauce…
Or new potatoes with added mint while cooking…
Don't forget to add a few mint leaves as a garnish, they do really lift the new potatoes…
Adding fresh mint leaves to a salad goes really well…
And then for the pudding you can have mint ice cream or chocolate covered mint leaves…
But if you suffer from gastroesophageal reflux disease (GERD), then it is not a good idea to eat mint….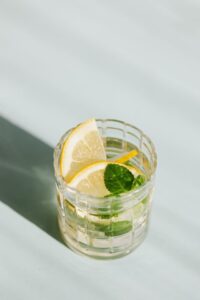 Drinks
And after you meal you can relax with a nice cup of peppermint, or spearmint, or orange mint tea, the choice is yours…
Or a Mojito, with its rum, soda, lime and mint flavors
Depending on what you want…
It is worth checking out what other drinks can be easily made with your fresh mint…
Just imaging how the flavor of your home grown mint will taste in these drinks…
Gifts
Still got more mint…
Wow …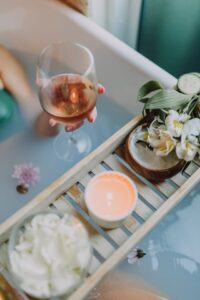 You can also make homemade gifts, like this mint sugar scrub…
Only taking 5 minutes…so ideal if you really run out of time for a last minute gift…
Or creating a cucumber mint bath soak
Or even making peppermint soap…
How would I recommend growing indoors
So you can see that mint is one of the easiest herbs to grow indoors…
You can grow mint from seeds, a stem cutting or rooted stock…
It will take easily, seeds germinating in 10-15 days…
It is possible to grow mint plants in containers with potting soil, remembering that it will grow pretty quick and send out runners to find a new place to root and spread…
You will need to find a window with direct full sunlight over the winter to give it enough light…
I have found that using an aerogarden, mint is very easy to grow…
Using a grow anything pod you add a few seeds ( they are pretty small, but you can thin them once they grow)…
Insert it into the grow table and add water to the grow bowl…
Top it with its own little propagator cover until you see signs of life…
Growing quickly to having two real leaves you can now remove the top cover…
Adding half strength nutrient gets the mint used to the new food and the accelerated growth will be obvious…
When the aerogarden now tells you to change the nutrient then use full strength and you are off and running…
You can start harvesting the mint when it has 6 or more leaves…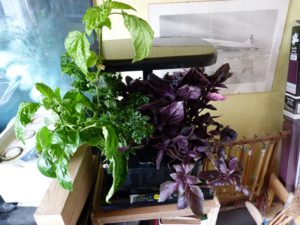 Remembering not to pick more than 1/3…
You may find the first few leaves may be light on flavor, but the second lot of leaves will be a lot stronger…
I would recommend the hydroponic method as it is a lot cleaner, more self contained and can grow more in a smaller area…
Let me know if you start to grow mint and what method you use…
Thanks for reading
phil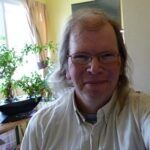 I have been growing plants hydroponically since 2009. For years before that i was reading books and looking at systems and saying ...no way...
But once i had taken the plunge with the tomatoes outside, then there was no stopping me.
I tried out most of the systems and started to refine them, getting the plants to grow more efficiently.
Now I am more interested in indoor hydroponics and the challenges it presents. Being able to control the environment, feeding the correct nutrients and giving the correct length and type of lighting....